The 50+ best concerts coming to Omaha and Lincoln in 2022
|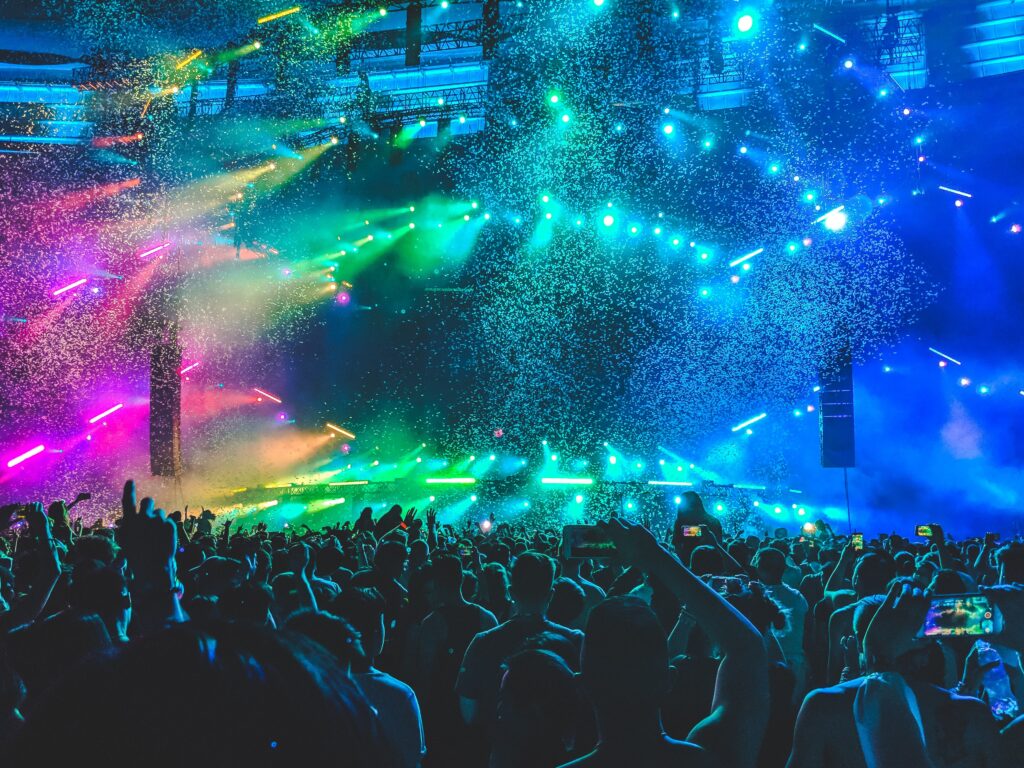 It's shaping up to be one epic summer.
Most of the summer's concert season has already been announced, and more are on the way.
There's heavy metal, singer-songwriters, classic rock stars, hair metal, arena icons and two absolutely epic festivals. And there's more on the way.
We'll dive into this thing shortly, but two quick things: First, we're going to keep updating this list, so bookmark this page and keep coming back. We'll keep adding to it as things keep getting announced. Second, this is by no means every concert coming to town. I picked my favorites, so be sure to check out local promoter and venue websites for even more concert dates.
Let's dig in!
---
MARCH
Todd Snider
March 23
The self- described "tree huggin', peace lovin', pot smokin', porn watchin' lazyass hippy" singer-songwriter is back with a new album, The First Agnostic Church of Hope and Wonder, which features 10 brand new tracks.
Tickets: $26+ at onepercentproductions.com
Gary Numan
March 24 at The Waiting Room Lounge
Postponed! This concert will be rescheduled at a later date. You probably know Gary Numan's hit, Cars, but it's his pioneering work with synth rock, electronic music and industrial rock that has inspired generations of musicians. And he's still at it. His latest, Intruder, was released last year.
Tickets: $30+ at onepercentproductions.com
Greta Van Fleet
March 25
Postponed! This show from the rock band famous for its classic rock sound was postponed due to an illness in the band and will be rescheduled soon.
Tickets: $45+ at ticketmaster.com
Elton John
March 27 at Pinnacle Bank Arena
Sir Elton continues his long-running farewell tour with yet another stop. I saw this your a couple years ago, and it's a blast. 
Tickets: $280+ at ticketmaster.com
Sister Hazel
March 31 at Barnato
The '90s alt-rock band responsible for hits such as All For You continues to make new music unlike many of their contemporaries. 
Tickets: $55+ at barnato.bar
---
APRIL
Bon Jovi
April 1 at CHI Health Center Omaha
The Wanted Dead or Alive band kicks off its 2022 tour with a stop in Omaha. If you've never seen Bon Jovi love before, it's a loud, big, hits-filled good time.
Tickets: $26+ at ticketmaster.com
We Were Promised Jetpacks
April 2 at The Waiting Room Lounge
This Scottish indie rock band has easily one if the best band names of all time. And their music is great too, though their new album Enjoy the View is a bit if a sonic departure to more chill and melodic pastures.
Tickets: $16 at onepercentproductions.com
Riff Raff
April 5 at Barnato
The Houston rapper known perhaps more for his sparkling grills, tattoos and hair will be showing up in Omaha.
Tickets: $25+ at barnato.bar
Kishi Bashi
April 8 at Slowdown
This singer-songwriter and multi-instrumentalist is a delight. Check out his studio albums but also give a listen to his two live records. It's great stuff.
Tickets: $22 +at theslowdown.com
Ashley McBryde
April 9 at The Admiral
We're glad the country singer is coming to town, but there's something else notable about this show: It will be the very first at the newly renovated Sokol Auditorium, which was purchased by 1% Productions, refurbished and rechristened The Admiral. I'm looking forward to seeing the new venue in action.
Tickets: $29.50+ at oncepercentproductions.com
Brother Ali
April 12 at Reverb Lounge
Rhymesayers rapper, community leader and speaker from Minneapolis, brother Ali is headed to Omaha. If seeing him live isn't enough, check out his podcast, Travelers Podcast.
Tickets: $20+ at onepercentproductions.com
Orgy
April 13 at Bourbon Theatre
The industrial rockers are back on the road for their Revival Tour, which is exciting for fans as the band hasn't played more than a handful of dates in decades. 
Tickets: $15+ at bourbontheatre.com
Mogwai
April 14 at The Waiting Room Lounge
The Scottish instrumental band is back at it with a new album, As the Love Continues, which Allmusic called "another peak in their long and influential career."
Tickets: $25+ at onepercentproductions.com
Snoop Dogg, Koe Wetzel
April 20 at Pinnacle Bank Arena
4/20 with Snoop Dogg? In Nebraska. Yes, it's true. It's real. It's happening. This is going to be an epic show. Bring a gas mask if you don't want to inhale. Country rock singer-songwriter Koe Wetzel is on the lineup, too.
Tickets: $100+ at ticketmaster.com
Henry Rollins
April 22 at Rococo Theatre
Henry Rollins is back. Back on the road that is. He's never left us. You're just as likely to know him as frontman for Black Flag or Rollins Band as you are from his many TV appearances, acting roles, his radio show, his books or his talking shows. I'm excited to see him again, telling stories from his decades on the road. 
Tickets: $22.50+ at rococotheatre.com
George Strait
April 23 at Pinnacle Bank Arena
Though the country troubadour retired from long tours years ago, but he still continues to perform in Las Vegas and occasional small tours. You'll be lucky to see the King of Country when he comes to Lincoln.
Tickets: $291+ at ticketmaster.com
Megadeth, Lamb of God
April 26 at Baxter Arena
Bring some earplugs to this one. Every time I've seen Megadeth, they head out on a tour packed with other artists, and this one is no different. Lamb of God is on this bill, and honestly I'm more excited about seeing them. This will be a good one, and it's especially awesome because the tickets are so cheap.
Tickets: $35.50+ at ticketmaster.com
Destroyer
April 28 at The Waiting Room Lounge
Dan Bejar's band Destroyer is back with a new album, Labyrinthitis, which Bejar said started out as a dance music record. Of course, that was Bejar's intention, but he put his own Destroyer twist on it. In their review, Spin says this is Bejar having fun.
Tickets: $22 at onepercentproductions.com
---
MAY
Mat Kearney
May 4 at The Admiral
In his new album, January Flower, Mat Kearney took an entirely new approach to writing music. He holed up in a remote house with a friend and an acoustic guitar, writing the entire album on that guitar. Of course, he took up in the studio and got into the production, but you can still hear those original acoustic tracks in every song. It's a good album, and I recommend you check out my interview with Kearney on the Pops and Hisses Podcast.
Tickets: $30+ at onepercentproductions.com
Mudhoney
May 4 at Slowdown
Part of the original Seattle grunge scene, Mudhoney is still at it. And they recently received the honor of being named the archetypal grunge band by none other than Kim Thayil, guitarist of Soundgarden.
Tickets: $22+ at theslowdown.com
Beach Bunny
May 4 at The Waiting Room Lounge
This is a fun power pop band that once played Maha Music Festival, and now they're back to headline the Waiting Room. Their latest EP, Blame Game, was released just last year, and Consequence said it was "a four-track look at toxic masculinity and laborious relationships" and that the band hasn't lost their talent for earworms.
Tickets: $23+ at onepercentproductions.com
Halestorm
May 13 at Stir Cove
Lizzy Hale and Halestorm are back on tour after launching the #RoadieStrong project to support out of work crew during the pandemic. They've also announced a new album, Back From the Dead, which will be released on May 6. In announcing the record, Lizzy Hale said it deals with mental health, debauchery, survival, redemption, and rediscovery.
Tickets: $39.50+ at ticketmaster.com
Southern Culture On the Skids
May 17 at The Waiting Room Lounge
Last year while they were spending a lot of time at home, Southern Culture On the Skids' Rick Miller recorded and mixed an entire 11 track album in his living room.
Tickets: $17+ at onepercentproductions.com
Robert Earl Keen
May 17 at the Rococo Theatre
Sing along to Redneck Mother at the top of your lungs (or maybe not… this is a fancy theater, after all) when Robert Earl Keen comes to Lincoln for his I'm Comin' Home tour, which celebrates more than 40 years on the road for the legend,
Tickets: $59.50+ at rococotheatre.com
Built to Spill
May 26 at The Waiting Room Lounge
The last time we got a new record from Built to Spill was in 2020 when they released an entire album of Daniel Johnston songs, but no matter, the legendary rock band is amazing to watch live no matter what they're playing.
Tickets: $25 at onepercentproductions.com
Belle & Sebastian
May 28 at The Admiral
I'm really excited to see the legendary Scottish indie pop band, even moreso because they have a new album, A Bit of Previous, coming on May 6, which is just before their stop in Omaha. Also awesome to note: Belle & Sebastian have also released the track and video for If They're Shooting At You in support of the people in Ukraine. The video is a collaboration with Ukrainian photographers, that highlights the situation on the ground, while offering a message of solidarity and hope. Belle and Sebastian have also pledged all artist income from the song's streaming and digital sales to the Red Cross.
Tickets: $35+ at onepercentproductions.com
Sum 41 and Simple Plan
May 20 at Stir Cove
Do you love pop punk? Do you wish it was still 2002? Then you'll dig the hell out of this show, which will feature your favorite radio punk from 20 years ago such as Fatlip, In Too Deep, I'm Just a Kid and Perfect. It will be awesome.
Tickets: $36+ at ticketmaster.com
---
JUNE
Phoebe Bridgers
June 1 at The Waiting Room Outdoors
We've been awaiting the return of Phoebe Bridgers for some time. The singer-songwriter has been here a few times with her Better Oblivion Community Center partner Conor Oberst, and her star has been on the rise. She's gone from budding indie rocker to a Grammy-nominated sensation. She's been releasing her own music and collaborating with Bright Eyes on the expanded editions of the band's reissued records.
Tickets: SOLD OUT
AJR
June 8 at Baxter Arena
Brothers Adam Jack and Ryan Met released a new album, OK Orchestra, last year once again writing, producing and recording the thing together.
Tickets: $37.50+ at ticketmaster.com
Matchbox Twenty
June 9 at CHI Health Center Omaha
This show got announced a couple years ago and due to the pandemic got moved around a few times. Now you can relive your Matchbox Twenty memories. I mean, the band hasn't released an album in 10 years, but who gives a shit? You know you only want to hear Yourself or Someone Like You anyway.
Tickets: $36.50+ at ticketmaster.com
Turnpike Troubadours
June 10 at Westfair Amphitheater
We were all disappointed when we heard the Oklahoma country band was calling it quits with an indefinite hiatus a few years ago, but the news that they were back together and ready to hit the road was fantastic. Their new tour kicks off in May, and they'll head to Omaha the following month. Also playing are Steve Earle & The Dukes and the Old 97's. This is an absolutely killer lineup!
Tickets: SOLD OUT
New Kids on the Block, Salt N Pepa, En Vogue, Rick Astley
June 11 at Pinnacle Bank Arena
It's '90s time! Relive your favorite pop memories from decades past by seeing everyone you'd see on the radio dial in 1993.
Tickets: $29.95+ at ticketmaster.com
CHVRCHES
June 15 at The Admiral
Easily one of the best live shows I've ever seen, CHVRCHES is back with a new tour and a new record, Screen Violence. Their electronic pop music is infectious, and it's especially good live. You'll miss out if you miss this show.
Tickets: $35+ at onepercentproductions.com
Roger Clyne & The Peacemakers
June 17 at The Waiting Room Lounge
If you're looking for some rock 'n' roll and a good time, you gotta go see Roger Clyne. Expect songs from the entirety of Clyne's discography including The Refreshments.
Tickets: $25+ at onepercentproductions.com
Bon Iver
June 18 at Pinewood Bowl
There might not be a better place to see Justin Vernon and his band than Pinewood Bowl, the gorgeous sloping lawn surrounded by 100-year-old trees. It's what you think of when you dream of an outdoor venue.
Tickets: $34.50+ at ticketmaster.com
MC Chris
June 18 at The Waiting Room Lounge
The nerdcore rapper is on a tour titled "The Last Tour." Is it really his last tour? It sure sounds like it by the way he's been talking about it on social media. So if you want to see MC Chris, now's your chance. Get out there.
Tickets: $16+ at onepercentproductions.com
Neko Case
June 23 at The Admiral
One of the best singer-songwriters of a generation will be holding her own on stage. What else is there to say?
Tickets: $36+ at onepercentproductions.com
Barenaked Ladies with Gin Blossoms, Toad the Wet Sprocket
June 24 at Stir Cove
Another nostalgia show? Sign us up. These are always a good time, and this one will touch on three bands of a similar era but each with slightly different sounds.
Tickets: $45+ at ticketmaster.com
Bone Thugs-N-Harmony
June 24 at Barnato
The long running hip-hop group featuring Bizzy Bone, Wish Bone, Layzie Bone, Krayzie Bone, and Flesh-n-Bone. Though members of the group that MTV called the most melodic hip-hop group of all time have departed at various points, they're all back together and on this tour.
Tickets: $85 at barnato.bar
Fitz & the Tantrums
June 25 at Stir Cove
This is one of my favorite bands to see live. Even when they were a little known funk, pop and soul band from California, they were slamming. And now that they have a host of pop hits like 123456 and HandClap, their show is even more fun.
Tickets: $34.50+ at ticketmaster.com
Third Eye Blind and Taking Back Sunday
June 29 at Stir Cove
Relive your early days with this one, which pairs up pop-rock band Third Eye Blind and emo rock band Taking Back Sunday. It's kind of an odd pairing, but a lot of us like both. (Side note: Third Eye Blind was my first concert, and I always love seeing them live.)
Tickets: $42.50+ at ticketmaster.com
---
JULY
Bright Eyes
July 2 and 3 at The Admiral
Back for their first tour in more than a decade, the Omaha-based indie rock band is in the middle of reissuing all of its albums, but each one comes with bonus tracks that include new songs, covers and redone tracks. It sounds like everyone is having more fun than ever, and these shows should be a great time.
Tickets: $39.50+ at onepercentproductions.com
Puscifer
July 5 at The Admiral
Puscifer is perhaps the most theatrical of Maynard James Keenan's many bands, and to truly experience the show, you've got to see them live. 
Tickets: $59.50+ at onepercentproductions.com
Guided By Voices
July 9 at Slowdown
GBV just never really stops. The indie rock band just released its 35th album, Crystal Nuns Cathedral, an album that pop matters called a late career masterpiece.
Tickets: $35+ at theslowdown.com
Poison
July 22 at Stir Cove
It ain't nothin but a good time. The world's pre-eminent hair metal band is on the road again, and have you ever seen them? They're an absolute blast! You know all the songs. The band is still killer. Everyone there is looking for a great time. 
Tickets: $75+ at ticketmaster.com
Chris Isaak, Lyle Lovett & His Large Band
July 22 at Holland Performing Arts Center
This is one helluva double headliner. Two incredibly talented musicians and their bands will perform at the Holland. Isaak's set is always a rock 'n' roll good time, more like Elvis and rockabilly than what you'd expect if you only know Wicked Game. And Lovett's unbelievable, trading between folk, country and gospel with his immensely talented band. You have to go.
Tickets: $63.50+ at ticketomaha.com
Maha Festival
July 29 and 20 at Stinson Park in Aksarben Village
The lineup for Maha was just announced and it includes Beach House, Princess Nokia, Car Seat Headrest, Pup, Indigo de Souza, Sudan Archives, Bartees Strange, Geese, Sweeping Promises and several local Omaha artists including  Las Cruxes, Marcey Yates, The Real Zebos, Dominique Morgan, Bad Self Portraits and DJ Shor-T.
Tickets: mahafestival.com
---
AUGUST
Sleigh Bells
Aug. 9 at Slowdown
One of the best side ones, track ones of all time is Tell Em off of Sleigh Bells' debut album, Treats. And think of that slamming energy for 90 straight minutes. Seeing Alexis Krauss and Derek Miller live is just a powerhouse. 
Tickets: $30+ at theslowdown.com
Outlandia Music Festival
Aug. 12 and 13
This one is big.
Created by some of the founders of Maha Music Festival and booked by 1% Productions, the long-running concert promoter that owns The Waiting Room, Reverb and Sokol, Outlandia is starting off big. The two-day festival will feature headliners Wilco and The National, and it will also feature Band of Horses, Local Natives, Silversun Pickups, Margo Price, The Breeders, Real Estate, Kat Hasty, Caroline Spence and local Omaha groups Mesonjixx and Clarence Tilton. This is a big-time lineup, and it's just 15 minutes from Omaha. Amazing.
Tickets: outlandiafestival.com
The Lumineers
Aug. 16 at CHI Health Center Omaha
Everyone's favorite campfire singalong folk band is back. This is another concert that was announced a couple years ago and wen through a series of postponements, but it's finally here. Get your boots ready to stomp along to Ho Hey when they come here in August. 
Tickets: $36+ at ticketmaster.com
The Black Crowes
Aug. 19 at Stir Cove
At one point, the blues-rock band was going to tour arenas playing its album Shake Your Money Maker in its entirety. That tour got canceled, but now it's back and playing different, smaller venues. It'll be a great time to see them perform their biggest and best album as well as its other material at Stir Cove.
Tickets: $69.50+ at ticketmaster.com
Alice In Chains, Bush, Breaking Benjamin
Aug. 20 at Westfair Amphitheater
89.7 The River's annual Rock Fest is back, this time with a whole lot of loud rock 'n' roll. I've seen some of these bands before, and they're always a great time. 
Tickets: $37+ at ticketmaster.com
---
SEPTEMBER
311
Sept. 9 at Shadow Ridge Country Club
Omaha's favorite sons will return to their hometown for an epic outdoor concert as headliners of the Shadow Ridge Music Festival. The complete lineup will be announced soon, and you should definitely expect some of your favorite '90s alt rock acts.
Tickets: On sale April 1 at onepercentproductions.com
Dinosaur Jr.
Sept. 25 at The Waiting Room Lounge
Last year, the screaming indie rock band released Sweep It Into Space, which was produced with Kurt Vile. Pitchfork called it the "breeziest and most melodically generous of the trio's reunion efforts."
Tickets: $27+ at onepercentproductions.com