Spoon had to put its new album on hold; Now they're on tour playing it
|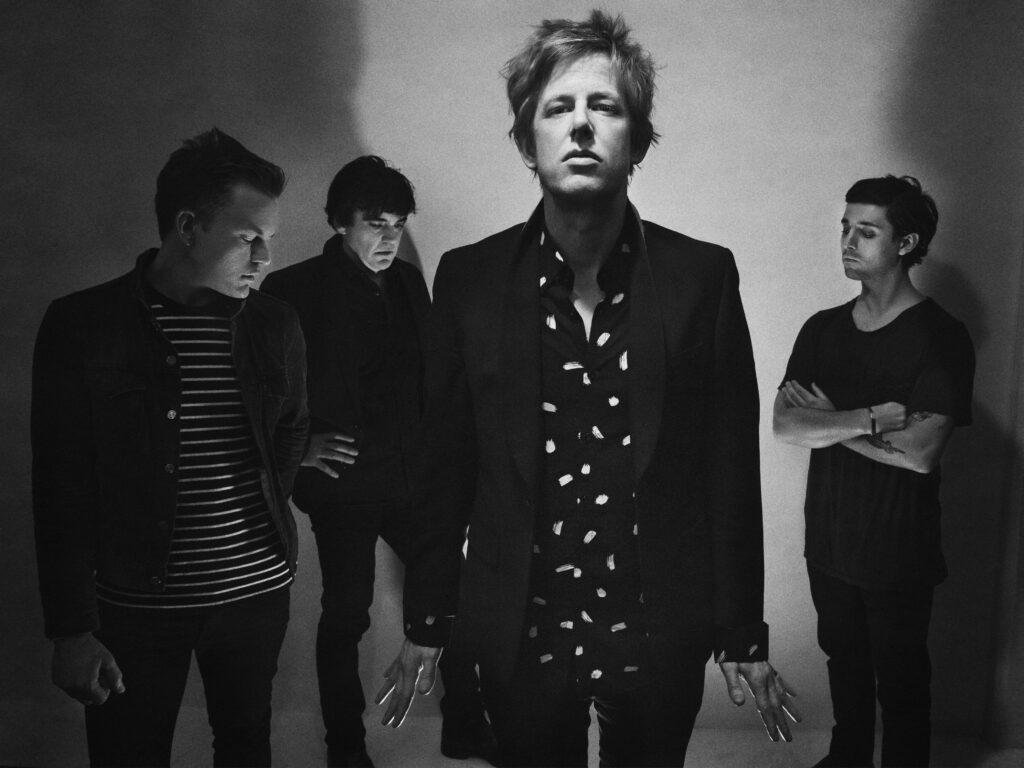 Spoon is out on the road. Finally.
Back in summer 2021, the long-time indie rock favorites played their first show in about 18 months. The sold-out concert in the band's hometown of Austin back in June was the first time they played a stage since December 2019.
The I Turn My Camera On, The Underdog, Inside Out and The Way We Get By band's time off started as time to make its 10th record. Then, as frontman Britt Daniel told me, the pandemic came and took them out of the studio. Downtime meant writing more songs, which mean totally changing the direction of the album and holding off on its completion and release.
So now the band, close to finishing the record, is out on the road for a series of tour dates that include a stop in Omaha at Slowdown on Thursday, Sept. 9. (Tickets, $35 plus fees, are available from Slowdown.)
So like every band, it's been a whirlwind couple of years, but they're hitting the ground running.
I caught up with Britt the other day while they were getting ready to play a show.
Hey, Britt.
What's up, Kevin? How are you?
Good, man. How are you?
Good. Good. Good. I'm in Boulder, Colorado today.
How's this run of dates going?
Really well. We played three. We played in Utah. We played two in Aspen. And it feels remarkably like being out on tour! Like that always did. But you know, there's certain differences, but it's still fun. You know?
I know you played some in the summer in Austin and stuff. But how long has it been since you guys have, you know, played a proper tour?
Not since we just did a week in December of 2019. So it's been a second.
We played one show in Austin on July 1. But my my friend, Jon Wurster, who plays in the Mountain Goats and Bob Mould and a bunch of other people, he was sort of prepping me because he was out on the road a couple of weeks before we were and he said, "It's about 50% as fun." But I think it's even more! It's almost normal.
For a band like yours that plays a lot — and I know you've said how much you like being on the road — it's gotta be weird to just not be in front of audiences for a long time.
It was a bummer. Yeah. One of my favorite parts of this whole thing is doing shows and getting in a bus, and all that comes with it.
Right. So one of the things you guys have been working on a new record, but then had to stop because of the pandemic. So where were you when you guys kind of paused that process?
We thought we were about halfway through or three quarters of the way through, and then pandemic hit. And we found ourselves not being able to get together, which meant I had a lot of alone time, which meant I ended up writing more songs.
And so the whole sound of the record… like the big picture of the record changed and, and a lot of songs that I wrote, post-pandemic, these have to be on the record. So we ended up being a little further off than I thought we were. But eventually we were able to get back together and, you know, it came together.
How many did you end up doing? What was the was the song pool like?
I counted that we've we had 34 more songs that we went through, that we started recording and then didn't finish or we just rehearsed a bunch of unfinished or I just did a bunch of demos for. That' a lot of tunes.
Yeah, that's a lot! Where are you guys in the process now? Cuz I mean, obviously you that must have been a whole lot more recording and changes and everything else. So where are you guys at the moment?
We're good and close. It's it's very close. But yeah, we were able to get together and get a lot more work done starting like, I guess last October and then we just kept kept going.
How much is from the sort of first sessions and how much from the second?
Probably half and half.
You mentioned a little that it changed direction a little bit. Can you tell me about that? What was the what was the feel and it where do you go with it? I totally understand that may be a hard question to answer.
Yeah. I wish you could hear it!
There were a lot of songs that were just sort of kernels of ideas, and I hadn't had the time to really sit down and focus on them. I had a few pages of lyrics, right? And  I just never found the right thing for them. And when March hit last year, it gave me a break. I never would have asked for it, but it gave me a break in a way that never would have happened otherwise, for me to really be able to focus and to slow down and to really assess big picture stuff.
How did that feel as a musician who, for nearly 30 years you've made a record, gone on tour, make another record? And then you guys are just kind of done that cycle. So what was it like to just all of a sudden have lots of time?
It felt like it did back in the beginning. In the beginning, it was about getting songs together. We would have a show coming up and write a few songs. There wasn't that cycle. After maybe like the fourth or fifth album, it became became a thing where you go tour. And once that's done, then you start writing songs again.
So it was more like it just felt like more like the beginning where you just kind of you're out there floating, you know? Whenever you have time — and we had a lot of time! — and not really knowing when it's gonna that was going to come to fruition or when we should be able to finish it.
So on this run of shows, are you gonna play a few new songs?
We've played, I don't know, maybe six new songs. Of course, most of the set is stuff that's come out before and then we share covers in there. We're playing this Cramps cover, TV Set, that we haven't played in a long time. We recorded it a while back. That's a good end of the show. It's a barn burner.
Does it feel good to play those new songs and see how people are reacting to them?
Yeah, I like that a lot. And we have people have been writing in saying, "How do we find the song?" Or "Is that coming out soon?" And they don't usually say that.
That's definitely a good sign.
It doesn't happen very often.
I'm in Omaha. Are you excited to play here? I know you have some friends around town.
I love Omaha, and I do have some really good friends from there. Some of them have moved away. But Omaha was one of those cities that really took to us before most places did. When we came through Omaha on our first album, we were in the thick of a tour where, you know, we would go play opening for local bands. If we were headlining, there would be no one there. We play in Fargo and a guy is pacing the floor. The dude was sort of stir crazy. And it was weird. It was a weird crowd, him and probably two other people.
And so we came from maybe a show in Fargo to a show in Omaha where we played at this bowling alley. Do you remember the bowling alley?
The Ranch Bowl. Yeah. I went there a million times.
Yeah! We set up, and then we were in our little dressing room, and I peeked out and there were tons of kids there. And that was kids from The Faint. Conor, I'm not sure if he was at the show but I met him later that night. I think maybe he was too young to get in to the show. But a lot of a lot of Saddle Creek people were there, and they were telling me, "We've got this tape label, Saddle Creek, and you should do a record with us!" And and they took us to a party afterwards.
We were rock stars in Omaha for that night.
That was really appreciated. And so when the next album came out, we came through there two or three times, and I just kept going back on my own. I'd drive up there from Austin to hang out with friends and go to Halloween parties and buy used clothes. It was a good scene for us early on.
You guys have been a band for nearly 30 years, which is impressive. A lot don't make it that far, but Spoon has stuck it out. So how do you keep it going? How do you keep it fresh?
It's all I ever wanted to do. I wasn't doing this to get to another place or doing this to find some kind of notoriety and then turn into an actor or something. I was just obsessed with records and obsessed with doing shows.
As we were talking about during the pandemic,  it was one of the most precious things everybody lost — that ability to get together and get into a group and enjoy music in a way that where you can feel everybody being into it at the same moment. There's something different about that.
I love that bit. I'll never lose my affection for it.
Well, I'm glad you guys are back out doing it.
Yeah, man. Take care.
---
Editor's note: This interview has been edited for length and clarity.